For more than 30 years, Michael Pritchard has been working with kids and teens in schools across America, helping them to open up and share their pain. Pritchard has the power to ENTRHALL and mesmerize a packed school gymnasium by employing his unique mix of humor, insight and compassion.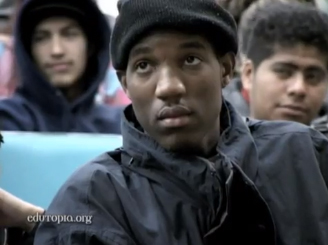 No one can wake up a jaded, angry teenager like Michael Pritchard can. Within minutes, he moves a school audience to both tears and laughter. His insightful, often uproarious comedy and empathetic nature have an extraordinary effect on kids; they open up and talk about their lives with unusual candor and honesty, broaching topics they rarely discuss with even their parents, teachers or counselors.
During a recent school visit a very emotional student told Pritchard, "Everybody needs a kind stranger to tell their secrets to." Pritchard is that kind stranger and the kids know it.
What People Say About Michael Pritchard
Pritchard is a builder of bridges. Kids from every background trust him because he listens, he has been there and he tells the truth; he has an uncanny ability to reach across social and racial barriers and bring kids together for a common purpose.
"What really sets him apart is the humanity and authenticity of his material"-Wall Street Journal
"Your commitment and dedication as our opening keynote speaker proved to be instrumental to the overwhelming success of the conference."-National Crime Prevention Council
"Funny enough to share the stage with Robin Williams. "– Christian Science Monitor
"Pritchard's amazing in his ability to get kids to talk. It's really unbelievable. I've never seen anybody quite so good at listening to children and asking good questions. It's really delightful. " -Alice Cahn, President, Children's Television Workshop
"I cannot tell you how much your programs have meant to me… You have given me newfound faith in working with the youth of America…. What you are doing really matters. " -Mathew Allard, Youth Counselor
"They should bottle you for future use." -Mother of teens
"Michael Pritchard is a national treasure." -Sam Blank, Dir., Conflict Resolution Programs, NYC Schools
A Few "Pritchardisms"
"Hurt people, Hurt people."
"Pain shared is pain divided"
"You don't you stop laughing when you grow old. You grow old when you stop laughing"
"Mentoring; not human doing but human being"
"The shortest distance between two people is a good laugh"
Drop Michael a Note